Early research findings published in Buildings & Cities journal
---
First findings of the Buying Social Justice project have been published in Buildings & Cities, an international open-access journal that publishes research on the built environment. In Using
Procurement to Promote Workforce Diversity, Tessa Wright describes how public procurement can be used to create a more diverse construction workforce, arguing that the emergence of the social value agenda can promote justice, equality and social cohesion in the built environment.
Distinct legislative and political contexts for using public procurement to address social and equality goals have developed in different countries, resulting in different outcomes. In the UK, England, Wales and Scotland each have distinctive legislative and policy environments, with stronger legislation in force in Scotland and Wales, as Hazel Conley has argued in a previous blog
post.
The Buildings & Cities commentary piece presents some key findings from the research, highlighting that leadership commitment from the political level (i.e. local councillors) and senior management can be critical. However, this commitment needs to be effectively filtered down through the organisation and be supported by appropriate resources.
One of the barriers to the inclusion of equality objectives in procurement was lack of expertise, which applies both to a limited understanding by procurement officers of equality issues, as well as a lack of knowledge among equality, diversity and inclusion (EDI) professionals of procurement practice. Related to this was a concern about resources and not having enough procurement staff.
Good engagement with suppliers – prior to tendering and during the operation of the contract – was found to be an important success factor, and holding regular supplier events with ongoing sharing of good practice was particularly effective.
The research has identified many examples of good practice in the inclusion of equality and diversity goals through public procurement. It found a need for clear, practical guidance on how to effectively incorporate equality and diversity considerations throughout the procurement process. To support practitioners a toolkit will be produced drawing on good practice identified,
which will be launched on the Buying Social Justice project website in October 2023.
Join our mailing list to receive updates on the progress of the project.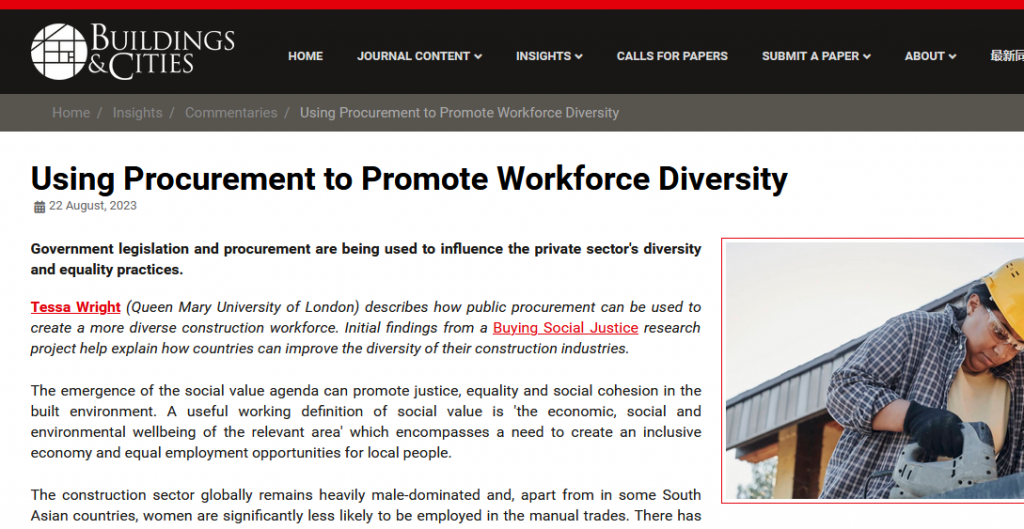 Join Mailing List