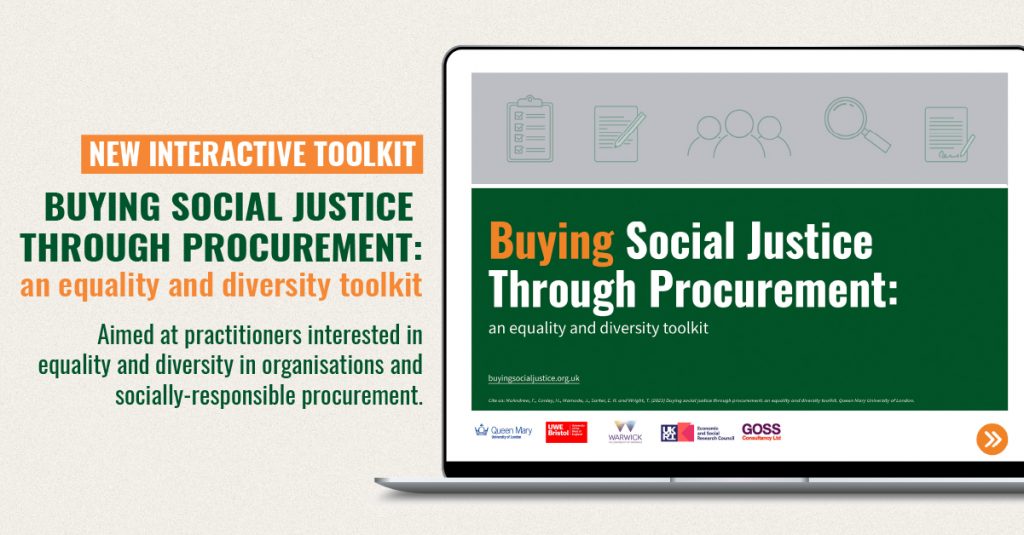 This toolkit has been produced by the Buying Social Justice research project to help individuals in the
public sector integrate equality, diversity and inclusion (EDI) into their procurement activity. It
should also be of interest to EDI practitioners wanting to understand how public procurement can be
a tool in their work.
We hope that it will also offer valuable insights to other organisations and businesses in the private
and third sectors who wish to work with the public sector and align with its social justice objectives.
We would like to gather feedback on how people use the toolkit, so we will be collecting contact
details in order to download the document.
This toolkit was written by Frances McAndrew of Goss Consultancy Ltd in collaboration with the Buying Social Justice research project researchers, Professor Tessa Wright, Professor Hazel Conley, Dr Joyce Mamode and Dr E. K. Sarter.
The interactive toolkit was edited and designed by Research Retold.
Buying social justice through procurement: an equality and diversity toolkit