Findings of research welcomed at workshop in England
---
The Buying Social Justice project team presented early findings from the research to an audience of procurement, equality and trade union experts at a workshop in Birmingham's Quaker Meeting House on 5 June.
The research highlighted good practice in the inclusion of equality considerations in procurement, particularly in the pre-qualification stages, although equality requirements in contracts were more likely among organisations that felt themselves to be mature in their procurement practice.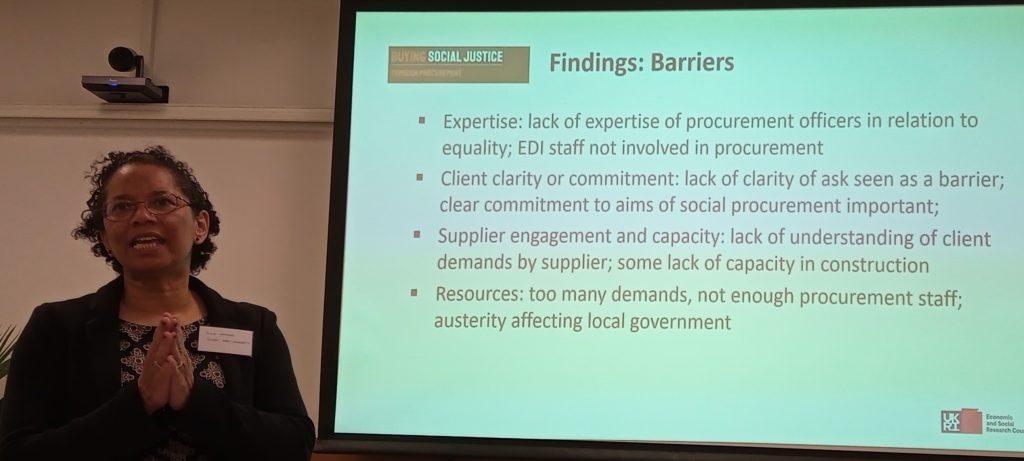 However the research found that monitoring of social and equality commitments was an area for improvement in many organisations.
Lack of resources – time, money and expertise – emerged as a key barrier to the effective incorporation of social and equality objectives in procurement. However collaboration and networking, both within and between organisations, was an enabler of the sharing of good practice. In summarising the evidence of good practice identified so far, Professor Tessa Wright emphasised the importance of good engagement with suppliers during tendering and contract management, equality, diversity and inclusion accreditation and training, and comprehensive monitoring and reporting systems.
Alison Ramsey, Social Value and Performance Manager at SCAPE, which manages construction frameworks for the public sector, welcomed the findings as an opportunity to focus on what can be done collectively. She highlighted the regeneration of Parry Barr in Birmingham as a good example of the inclusion of social value at the start of the 1,000 home building project, with strong leadership from the City Council. Contractors Lendlease worked with key stakeholders, including Women into Construction, to ensure job opportunities and upskilling for under-represented groups in construction. The site had two inclusion and well-being champions and equality, diversity and inclusion (EDI) toolbox talks were delivered. Alison pointed out that although this is a large project, some of the actions could be replicated on a smaller scale.
TUC policy officer Abigail Hunt also welcomed the research, in particular the emphasis on good practice case studies, and called for greater inclusion of good work in procurement. Working with trade unions to understand key employment standards to include in procurement and using sector or locality-relevant tools such as employment charters are key means to make this happen in practice. She also highlighted the importance of transparency in public contracting, saying that the TUC is calling for a Domesday book of public contracts which would ensure that "commissioning authorities, trade unions and the public have a one stop shop to understand contract performance, including whether equality, diversity and inclusion and employment commitments have been delivered".
Participants in the workshop made further suggestions for the development of recommendations and guidance from the project, including on engaging with suppliers on EDI issues, identifying areas of greater risk as a way to focus resources, and guidance on implementing EDI in procurement, developed with contractors.
The project is holding a third workshop, aimed at public sector procurement officers, equality and diversity practitioners, policy makers and trade unions and civil society organisations, in Edinburgh on 22 June, registration here.
Join Mailing List