"Golden thread" of equality throughout procurement process is key to success, hears Scottish workshop
---
A third workshop organised by the Buying Social Justice project took place in Edinburgh, where the project team presented findings from the research conducted across England, Scotland and Wales. The well-attended event at Edinburgh's COSLA conference centre on 22 June brought together procurement and equality experts from across the Scottish public sector to hear the research findings and contribute to the development of the project's recommendations and good practice guidance.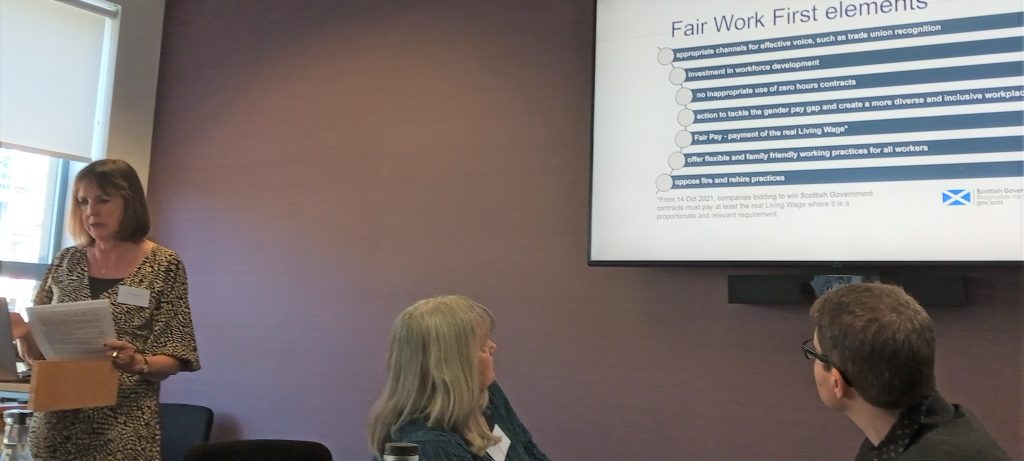 Following presentation of the research, the workshop heard from Jo Mitchell, Sustainable Procurement Lead at the Scottish Government, about its highly developed legal and policy environment for using public procurement to achieve its social and economic objectives, guided by a National Performance Framework that aims to increase the wellbeing of people living in Scotland, create sustainable and inclusive growth and reduce inequalities. The inclusion of equality considerations in the Government's Sustainable Procurement Strategy is underpinned by the enactment of parts of the Equality Act requiring the consideration of award criteria and contract performance conditions in public procurement and the Fairer Scotland Duty which aims to reduce inequalities of outcome caused by socio-economic disadvantage.
Additionally public bodies are expected to promote fair work in procurement processes, including action to tackle the gender pay gap and create a more diverse and inclusive workplace, and offering flexible and family-friendly working practices from day one of employment. Mitchell believed that the consistent emphasis on equality outcomes had resulted in going beyond simply focusing on avoiding discrimination to advancing equality of opportunity and fostering good relations: "We get that equality is about positive action."
Barbara Morton, Director of Sustainable Procurement Ltd, also responded to the research findings, highlighting that the preparatory stage of procurement has the greatest impact on outcomes and should include understanding what markets can deliver, as this is constantly evolving. Contract management is also a key phase, with significant attention needed to ensure that contract managers understand how to monitor equality, diversity and inclusion objectives. Measuring outcomes, as well as internal monitoring and external reporting, are all vital stages. But what matters for successful outcomes is that "no links are broken in the golden thread."
Round table discussions drew on practitioners' experience of the elements that contribute to good practice in including equality in procurement. Equality Impact Assessments were seen as important in setting priority areas for action and clear community benefits reporting mechanisms allowed a good understanding of what was effective. The development of Community Wish Lists also enabled communities to identify areas that they would like to see addressed, which provided inspiration for potential contractors to address local needs in their bids. This workshop was the last of a series of workshops held in England, Wales and Scotland, which have provided valuable insights to assist in the development of project recommendations and a toolkit, which will be launched in September 2023.
Join Mailing List